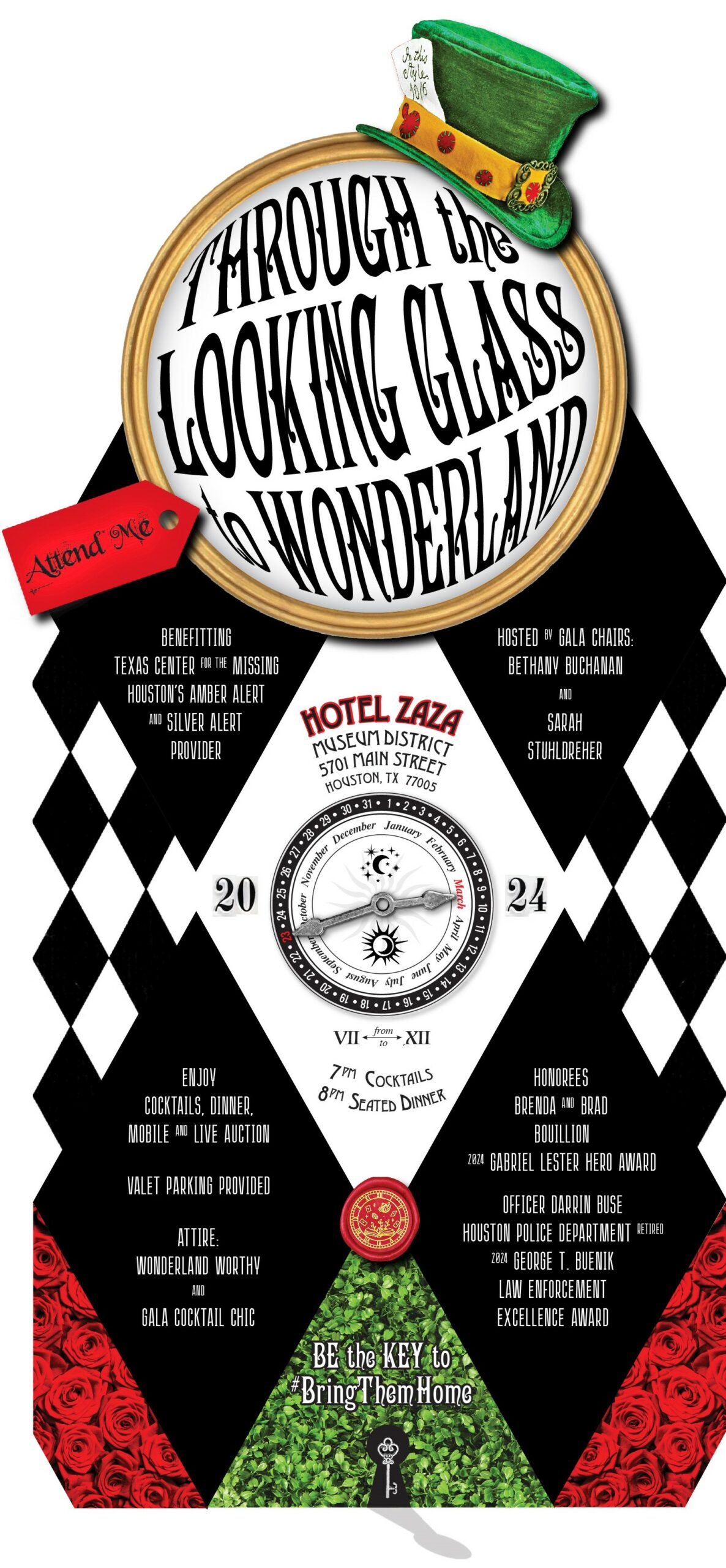 Champions for Children annually gathers Houston professionals and community volunteers for an evening of fun, food, festivities, and fundraising all for a great cause. Read below for our most recent event information.

2024 Champions for Children Gala
Through the Looking Glass to Wonderland:
Be the Key to #BringThemHome
Saturday, March 23, 2024
Hotel ZaZa Museum District
5701 Main Street
Houston, TX 77005
7 PM – Midnight




Cocktails: 7:00 PM
Seated Dinner: 8:00 PM

Valet Parking Provided
Attire: Wonderland Worthy and Gala Cocktail Chic

The Online Auction Coming Soon!

Download the Digital Save the Date!

Honoring:
2024 Gabriel Lester Hero Award Recipients
Brenda and Brad Bouillion

and

2024 George T. Buenik Law Enforcement Excellence Award Recipient
Officer Darrin Buse, Houston Police Department-Retired

Hosted by 2024 Gala Chairs:
Bethany Buchanan and Sarah Stuhldreher

With Thanks to the 2024 Steering Committee:
Courtney Culver Baker, Auction Co-Chair
Kristen J. Cannon, Wine Co-Chair
Lauren Mills, Auction Co-Chair
Jordan Seff, Wine Co-Chair

Ginger Arwadi
Emily McAdams
Sherry McIntyre
Kelly Opre
Tara Tracy
Desiree Urrutia

Queen's Court:

Ginger and Nabil Arwadi
Lisa and David Atkins
Bethany and Ben Buchanan
Kristen J. Cannon
Amy and Kevin Comiskey
Trienet and Mauricio del Valle
Monica E. Fulton
Mignon and Steve Gill
Cynthia and Iggy Grillo

Jayne and Garrett Johnston
Lindsey Rose and Patrick King
Deborah Levy, Junell & Associates
Melissa Lipinski-Nance
Rachel and Tom Regan
Ashley and Bryon Rice
Sarah and Peter Stuhldreher
Drs. Ishwaria and Vivek Subbiah
Ofelia and Vuk Vujasinovic


*Thank you to the 2023 Selfie Booth SponsorDigiBooths! They're a DigiGroup Entertainment company and the go-to when it comes to photo booth and DJ services.


Want to get your business seen by Houston's business professionals and support a good cause?

OR contact Mel Turnquist at mturnquist@tcftm.org to
donate an item to the Gala Auction or Raffle!

For additional information or questions regarding sponsorship
or auction/raffle donation opportunities,
contact Mel Turnquist at 713.986.3542 or mturnquist@tcftm.org.