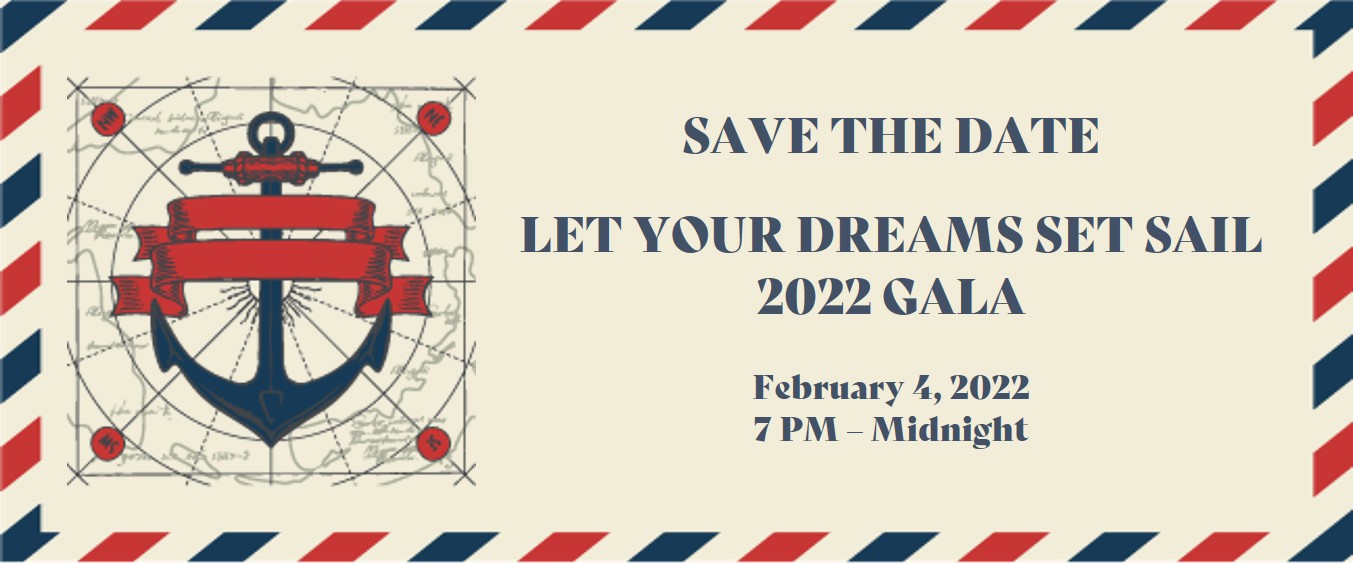 Champions for Children annually gathers Houston professionals and community volunteers for an evening of fun, food, festivities, and fundraising all for a great cause. Read below for our most recent event information.

2022 Champions for Children Gala
Let Your Dreams Set Sail
Friday, February 4, 2022

The ONLINE AUCTION IS OPEN!
Need not be present to win!
River Oaks Country Club
1600 River Oaks Blvd.
Houston, TX 77019
7 PM – Midnight

Cocktails: 7:00 PM
Seated Dinner: 8:00 PM
Entertainment Provided By: DJ Senega

Valet Parking Provided
Attire: Nautical Chic or Cocktail Attire

Download the Digital Invitation Here!
By Invitation Only

Download our underwriting form here!
Make the pledge to sail away with us!

Purchase your tickets or table now!
Sail Away With Us!

Sponsorship Package Details Available Now!
Custom Packages Also Available

Receive all of our Gala Updates via the Facebook Event Page!
#TCMSetSail #TCMGala

Honoring the 2022
Gabriel Lester Hero Award Recipients
Laura & Tommy Wilson

and Honoring the 2022
George T. Buenik Law Enforcement Excellence Award Recipient
Sgt. Bonnie Ewerling, Harris County Sheriff's Office

and Presenting the Lifetime Achievement Award to
Beth Alberts, Former TCM CEO

Gala Chair
Cortney Cole-Hall, The Cole-Hall Group,
Martha Turner Sotheby's International Realty

2022 Gala Auction Chair
Lindsay Graham

2022 Wine Chair
Lynn Sessions

With thanks to our 2022 Gala Committee
Nadine Boutros, Julie Ludeke, Brandi Maxwell,
April McGee, Kelly Opre, Ashley Rice, Sarah Stuhldreher, and Desiree Urrutia

Host Committee

Jess Alberts & Jim Leroy
The Honorable Jacquie Baly & James Craig
Geoffrey Banez
Lisa & Cody Blount-Cole
Travis Bonner
Kristen J. Cannon
Carlos Castellanos
Maurice Chevalier, IV
Margie & Robert Cole
Deborah Elias
Kimberly Gillespie
Lisa Gochman
Beth Guinn
Claudio Guitierrez
Ryan Hodges
Nikki Howard
Sean Johnson, JD
Anna Kaplan
Patrick Kownack
Stacey Lanza & Michael Sweitzer
Jacqui & Matt Lassiter
Carolina & Richard LeBlanc
Melissa L. Lipinski-Nance
Julie & Derek Ludeke
Raj Mahadass, JD
Kristen & Scott Malone

Demi McCormick
Alex & Dustin McCoy
Erin McKillop, JD
Candace Mokwa
Bryan Mueke
Ali & Ryan Murphy
David Noll, JD
Amie & Corbett Parker
Peggie & Kyle Pentecost
Gretel Perera
Dionne Peters
Mel Prieve
Carlin & Damon Putman
Danny Rashid, JD
Britny & Kirk Robinson
Jess Rogers
Edward Sanchez
Ann & Frank Shepley
Kayvon Sohrabi & Dr. Roland Maldonado
Sonia Soto
Molly Johnson Stone
Leigh Sweeney
Jon Van Steenis, JD
Courtney & Will Warden
Krystal Williams
Dean Zografos

Thank You 2022 Underwriters

Captain's Table

First Class Tables


Bank of Texas
April and Wells McGee
Doreen Wise and Frank Crapitto

Starboard Tables

Beth Alberts and Mark Sendt
Jess Alberts and James Leroy
Cortney Cole-Hall, The Cole-Hall Group, Martha Turner Sotheby's International Realty
Cortney Cole-Hall and Melissa L. Lipinski-Nance
Margaret and Darryl Drenon
Ashley & Jeremy Freeman, Elicia & Ryan Hunter, and Lindsay Kirkendall

Lindsay and Ben Graham
Houston Galaxy Fireworks & Halloween
Sean Johnson and David Noll
Brandi Maxwell
Flo McGee
Cyndie and John McNamee
Kelly Opre and Robin Pilcher
Peggie and Kyle Pentecost
Dionne Peters
Laura and Tommy Wilson

Cruise Directors


Donna and George Buenik
Anna Kaplan
Kerry McCracken
Dr. Lee Steely and Dr. Katherine DeLaune

Photo Booth Sponsors


Ashley and Bryon Rice

Want to get your business seen by Houston's business professionals and support a good cause?

For additional information or questions regarding sponsorship
or auction/raffle donation opportunities,
contact Mel Turnquist at 713.986.3542 or mturnquist@tcftm.org.