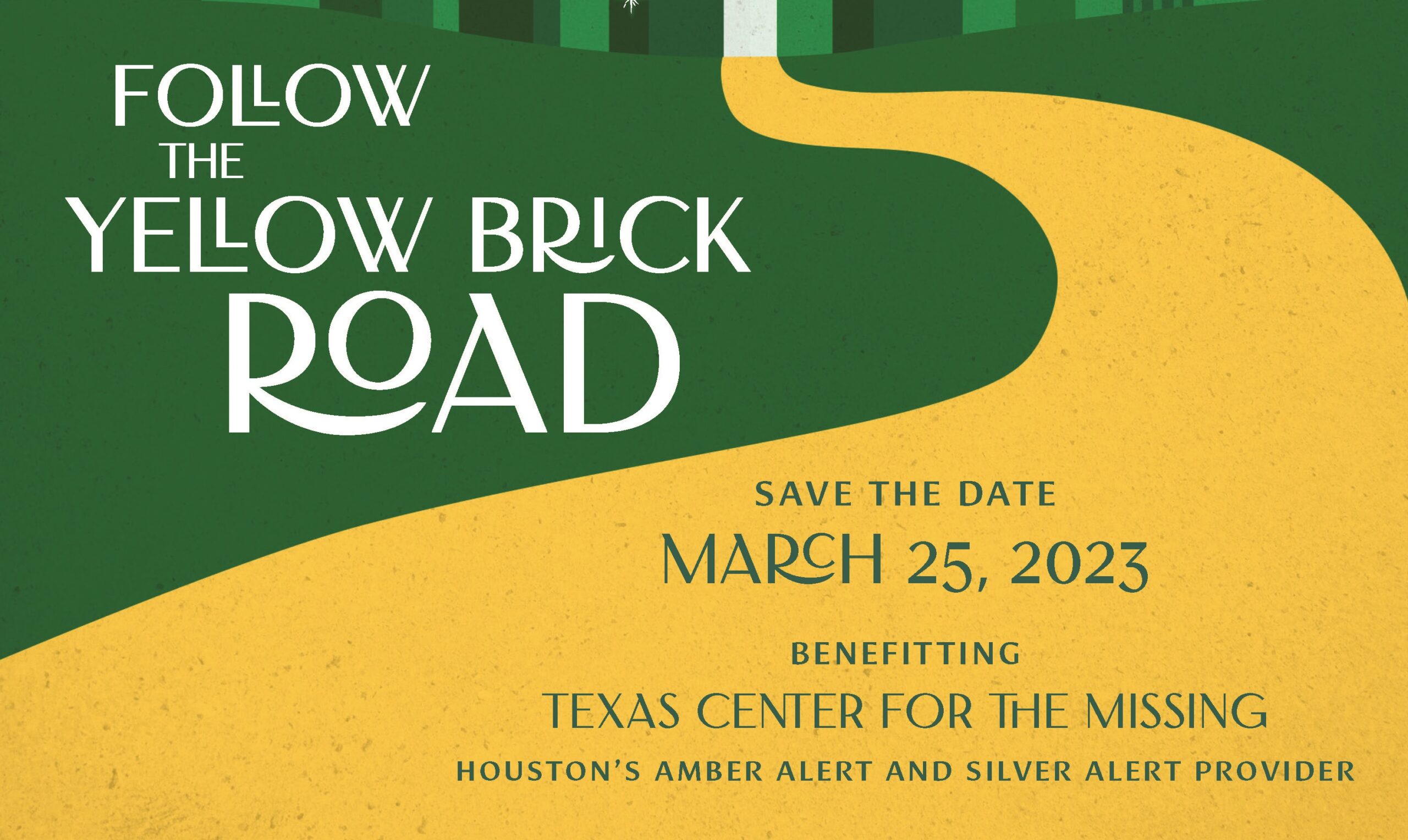 Champions for Children annually gathers Houston professionals and community volunteers for an evening of fun, food, festivities, and fundraising all for a great cause. Read below for our most recent event information.

2023 Champions for Children Gala
Follow the Yellow Brick Road: There's No Place Like Home
Saturday, March 25, 2023

Presented By:
Hotel ZaZa Museum District
5701 Main Street
Houston, TX 77005
7 PM – Midnight

Cocktails: 7:00 PM
Seated Dinner: 8:00 PM

Valet Parking Provided
Attire: Oz Worthy and Gala Cocktail Chic

The Online Auction is LIVE!

Honoring:
2023 Gabriel Lester Hero Award Recipients
April and Wells McGee

and

2023 George T. Buenik Law Enforcement Excellence Award Recipient
Special Agent Glenn Gregory, FBI-Houston, Retired

Hosted by 2023 Gala Chairs:
Ginger Arwadi and Ashley Rice

With Thanks to the 2023 Steering Committee:
Trienet del Valle, Wine Chair
Tara Tracy, Auction Chair

Cortney Cole-Hall
Lindsay Graham
Kelly Opre
Sarah Stuhldreher
Desiree Urrutia

With Thanks to the 2023 Mistress of Ceremonies:
Grace White, KHOU 11

Behind the Curtain Ambassadors:

Lisa and David Atkins
Abigail and Daniel Ciscomani
Alison and Wade Coriell
Elizabeth and Derek Detring
Monica E. Fulton
Sandy and Neil Hartley
Rita and Nabil Joubran
Talia and Brent Kallop

Christine Kirchner and
Ken Stanley
Maud and Damien Lhors
April and Brian Lopez
Marni and Tom Otjen
Amy and Rob Pierce
Kristina and Paul Somerville
Joanna and Andrew Strachan

Thank You 2023 VIP Sponsors

Over the Rainbow
Ramji Law Group P.C.

There's No Place Like Home
Kelly Opre & Robin Pilcher

Land of Oz
April & Wells McGee

Emerald City

Ginger & Nabil Arwadi and
Ashley & Bryon Rice
The Awty International School
Jana E. Fant
Rita & Nabil Joubran
Flo McGee

Sequel Data Systems
Lynn Sessions, BakerHostetler
Kristina & Paul Somerville
Tara & Eric Tracy
Doreen Wise & Frank Crapitto

Ruby Slippers

Lisa & David Atkins
Abigail & Daniel Ciscomani
Alison & Wade Coriell and
Elizabeth & Derek Detring
Margaret & Darryl Drenon
Ashley & Jeremy Freeman,
Lindsay Kirkendall
and Brittney White

Monica E. Fulton
Cyndie & John McNamee
Amy & Robert Pierce
Stellar Bank
Desiree & Antonio Urrutia

VIP Party Sponsors
Christine Kirchner & Ken Stanley

Cocktail Hour Sponsor
Tito's Handmade Vodka

Photo Booth Sponsor*
Vellani Law/Independence Title

Kansas
Donna & George T. Buenik
Evren & Aysu Gurpinar
Christine Kirchner & Ken Stanley
April & Brian Lopez
Hadia & Ousama Mawlawi
Caroline Mburu, Massage Diamond
The Perfect Touch
Sarah & Peter Stuhldreher
Suzy & Paul Thompson

VIP Wine Pull Sponsors
AOC Selections
Rishma & Akbar Mohamed

Photographer Sponsors
Marni & Tom Otjen

*Make sure you follow the yellow brick road to our selfie booth provided by DigiBooths! They're a DigiGroup Entertainment company and the go to when it comes to photo booth and DJ services.


Want to get your business seen by Houston's business professionals and support a good cause?

OR contact Mel Turnquist at mturnquist@tcftm.org to
donate an item to the Gala Auction or Raffle!

For additional information or questions regarding sponsorship
or auction/raffle donation opportunities,
contact Mel Turnquist at 713.986.3542 or mturnquist@tcftm.org.