Only a law enforcement agency can issue a regional or state Amber Alert.  If your child is missing, please contact 9-1-1 immediately and then Get Help Now.
If  you are a law enforcement officer and your agency needs to issue an Amber Alert, please contact
(832) 269-2553 or call (713) 599-0235 for 24/7 support and activation assistance.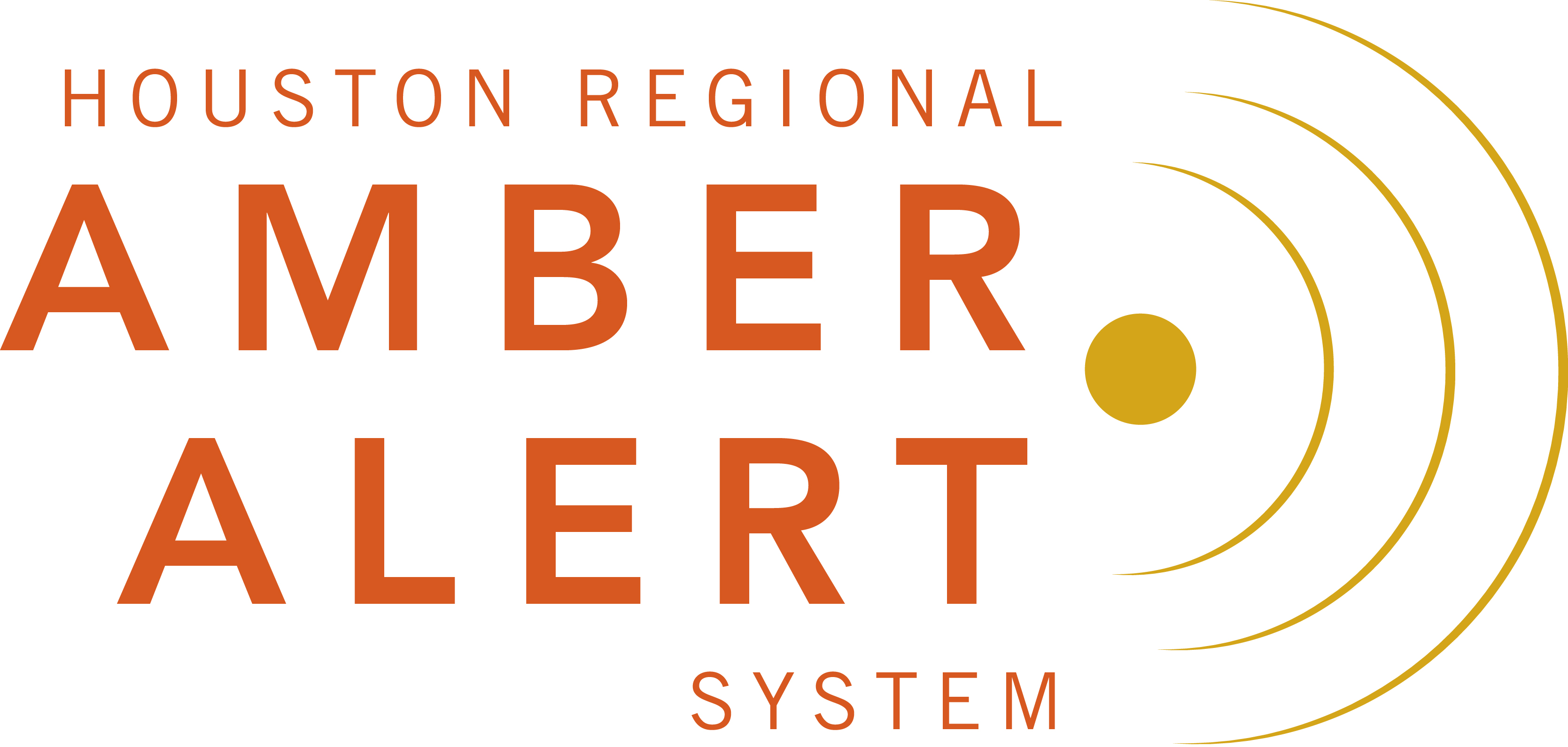 The Houston Regional Amber Alert Program is administered by Texas Center for the Missing, and is designed to help find missing children believed to be abducted.  The program is a cooperative public service effort between local law enforcement, news media outlets, Amber Alert business partners, and the public.
Our local alert was developed in 2000 by the Houston Police Department in cooperation with the Houston Local Emergency Communications Committee, the Harris County Office of Emergency Management, and NewsRadio KTRH-AM 740.
The Houston Regional Amber Alert covers the Houston-Galveston 14-county region, including Austin, Brazoria, Chambers, Colorado, Fort Bend, Galveston, Harris, Liberty, Matagorda, Montgomery, San Jacinto, Walker, Waller, and Wharton counties.
Contrary to public opinion, there is NO national Amber Alert system and therefore, no national funding for the program.  Each state and each region is responsible to create, maintain, and find funding for its local program.
As the administrator of the Houston Regional Amber Alert System, TCM receives a modest government-funded, cost-reimbursement grant to administer our regional Amber Alert and Silver Alert systems.  The majority of funding has been provided by the generosity and support of local citizens and the private sector.

The History of the AMBER Alert
In January 1996, nine-year-old Amber Hagerman was riding her bicycle on a warm Saturday afternoon when a neighbor heard the girl scream.  The neighbor saw a man pull Amber off her bike, throw her into the front seat of his pickup truck, and drive away at a high speed.
The neighbor called police and provided a description of the suspect and his vehicle, but could not recall much else.  Arlington Police and the FBI interviewed other neighbors and searched for the suspect and vehicle.  Local radio and TV stations covered the story in their regular newscasts.
A concerned citizen contacted a Dallas area radio station, suggesting the idea that Dallas radio stations should repeat news bulletins about abducted children just like they do severe weather warnings.
The idea was presented to the Association of Radio Managers (ARM) composed of general managers of the major radio stations in the Dallas/Fort Worth area.  The general managers agreed that such a program would provide an important public service and might help save the life of a child.
The Dallas Amber Plan was started in July 1997.  Since then, the program has successfully recovered hundreds of children and has expanded to other cities and states nationwide.